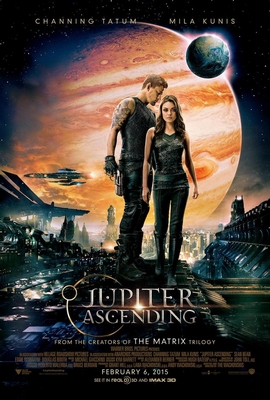 You know, when Jupiter Ascending was pushed back nearly 10 months to "finish the visual effects," I got a little worried. That's not something that happens so close to release date; if the effects are going to need a large amount of additional time, it's going to be evident earlier than that. My guess after having seen the film is more that it was still being edited, and that a longer version existed that the studio wasn't happy with. Perhaps "guess" isn't the right word. "Hope" might be more accurate. Because Jupiter Ascending desperately needs a longer cut.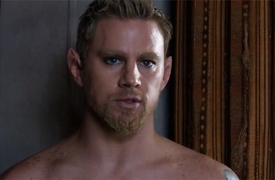 The basic gist of the story has Jupiter Jones (Mila Kunis), a normal girl who works as a maid, finding herself caught up in an intergalactic plot that's far bigger than she is. As it turns out, humans have been around for a billion years and exist on hundreds of different planets which are owned by various people. The Abrasax siblings own various planets after their mother died, but Jupiter is the exact genetic match for their mother, and that means that she's entitled to the inheritance over them. Don't overthink it. So, at least two of them want her gone so that this can't happen.
Protecting Jupiter is Caine Wise (Channing Tatum), who was hired to find her and bring her to one of them, but soon enough becomes her best friend, potential lover, and someone who would die to protect her. It's a rags-to-riches story — is it any coincidence that Cinderella was mentioned early on? — crossed with a sci-fi actioner.
It's sad that I said this is the "gist" of the story when it took me two paragraphs and yet I haven't even scratched the surface. I haven't even mentioned the individual siblings, like how one of them, played by Eddie Redmayne, seemed to be channeling Seymour Guado. Looking back, it makes sense why about 75% of Jupiter Ascending is exposition; there's that much information and content to deliver to the audience. I haven't even begun to get into the universe that has been created for this film, or most of the characters, or the technology, or even why Jupiter is so important beyond just preventing the three siblings from getting their full inheritance. The latter one will remind audience members of the human harvesting that took place in The Matrix, mostly because Jupiter Ascending has been written and directed by the Wachowskis, who also did The Matrix.
Jupiter Ascending feels choppy, which is why I wonder if a longer cut existed that the studio cut down for theatrical release. It's still coherent, and while you might come away wanting more things explored, you likely won't feel terribly confused. There are some subplots that go nowhere, which is unfortunate, and some scenes that feel completely out of touch with the rest of the film. One Brazil homage comes out of nowhere, for instance, and feels so out of place.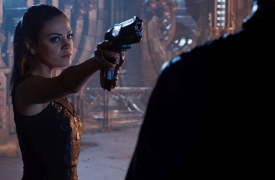 When we're not having this universe and its circumstances explained to us, we get action scenes and suspense. The action primarily has Channing Tatum with anti-gravity boots shooting at various creatures, while the suspense is all about timing. "Will X get to Y before Y does Z." That's about all that the film has. Well, that and gorgeous visuals.
In fact, going strictly by its visuals, Jupiter Ascending is worth seeing. Whether or not the filmmakers spent several additional months to finish the special effects, they're fantastic, and the film looks amazing from start to finish. You get immersed in what it has to offer because of how pretty it is, and because the CGI worlds — multiple — feel so richly crafted. Here's what I wanted more of: I wanted to explore them. We're told that there are tons of human-infested planets, and I'd like to see some of them. Maybe in the sequel?
Jupiter Ascending is one of those few movies that needed to be longer than it was, not shorter. It would work as a two-part miniseries, or a film as long as the individual Lord of the Rings movies, or even the Wachowskis' earlier Cloud Atlas. There's so much to explore that the movie takes far too much time giving us exposition. By the time that's out of the way, it's almost over, and there's so much more to explore. It's coherent, beautiful, and gives us an interesting universe in which to spend two hours, but more of it would be much better. Here's hoping for a longer cut on home video.