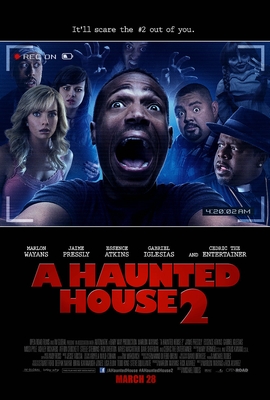 I never thought I'd get the opportunity to see Marlon Wayans have sex with a doll that looks like the one from The Conjuring — and its spinoff, Annabelle — but now that I've seen A Haunted House 2, I can say that I have, and that I really didn't need to. Let it not be said that Wayans won't try to do anything for a laugh, and I'm sure his target audience — those a fan of crude, profane, and offensive jokes and actions that go on for about five times as long as they should — will get a kick out of A Haunted House 2.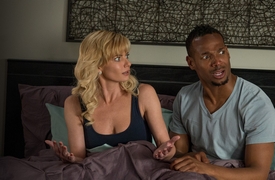 Our film kicks off a year after the original. Malcolm (Wayans) is now moving into another house with his new girlfriend, Megan (Jaime Pressly), and her two kids, Becky (Ashley Rickards) and Wyatt (Steele Stebbins). Right off the bat, a safe falls on his dog, and it looks like A Haunted House 2 is going to be just rehashing jokes that weren't funny in the original. It's almost a shame that this isn't what happened. Instead, we're riffing on The Conjuring. Well, mostly. There are other horror films made fun of, too, but it's primarily The Conjuring.
The house is haunted. The doll, Abigail, is sentient and a stalker. Becky finds a box with which she becomes obsessed. Wyatt has an invisible friend, Tony, who is most certainly a ghost. And Megan … kind of isn't in the movie a whole lot. I guess after the first film, which made the female lead the brunt of most of the jokes, we're taking a break from that. It gets replaced with more profanity and racial humor. Oh, boy!
Much of the racial stuff comes during the conversations that Malcolm has with his neighbor, Miguel (Gabriel Iglesias), and it grows old after the very first time they speak. A Haunted House 2 did seem like it was far more profane than the first film. Outside of a scene of nudity in the first one, it almost could have been rated PG-13; that's how tame it often felt. This time? Not a chance. We're dropping as many F-bombs as we can, son, because that's funny. Profanity is used in place of humor, because if people swear enough you will laugh. That's the theory, I guess.
Cedric the Entertainer once again shows up, because I guess people enjoyed his shtick in the first film. Missi Pyle and Hayes MacArthur also appear near the end, playing versions of Lorraine and Ed Warren. There was the potential for actual satire with their characters, but that doesn't happen. The film isn't smart enough to use its premise to do anything other than make crude and unfunny jokes that go on and on for far longer than they should, much like this sentence is doing right now to prove a point, as you've hopefully figured out by this point.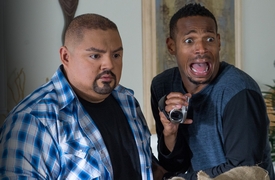 Still, it is, I guess, kind of refreshing to see an actor in Marlon Wayans who really will do anything in an attempt to get us to laugh. There don't seem to be many boundaries with this man, and … that's commendable, I guess. The problem comes from the writing, which is partly his fault, as he's listed as a co-writer (and a producer). He needs to let someone funnier write the jokes and the situations. I have no doubt that he would be more enjoyable to watch with a funnier script.
The first A Haunted House made a ton of money on a very low budget. This film has a similarly low budget, but regardless of how much it makes, I'm hoping this will be the last of these films. Most of the creativity was already used in the first film — which was also terrible — so this time around things are even worse. Another yearly installment would only result in disaster, I assure you, unless a new creative crew was brought in. No, wait. I don't even want to include that exception. No more A Haunted House films.
A Haunted House 2 is everything you didn't like about A Haunted House but cruder, more profane, and stretched out into even more unbearable lengths. How long do you want to see Marlon Wayans have sex with a doll? If you answered anything other than "not even for a second," then perhaps you should watched A Haunted House 2; it might appeal to your sense of humor. The rest of us? We'll go watch better movies.