A quarter-life crisis doesn't have to strike you right at the age of 25. After all, a midlife crisis doesn't happen exactly at 50, right? Sometimes, it can come earlier, while for other people, it can come later. It's kind of like puberty in that way, isn't it? What's different is that it doesn't even have to strike, and that there can often be an event that triggers it. For best friends Sasha (Leighton Meester) and Paige (Gillian Jacobs), that trigger is Tim (Adam Brody), a doctor who wears "slogan shirts" and loves to quote movies.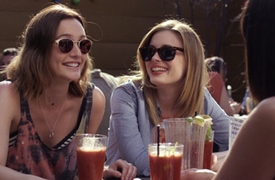 I'll back up. Paige and Sasha have been best friends forever. They seemingly do everything together, even if they're very much different people. Paige is a go-getter, while Sasha is a slacker. Perhaps they balance one another out. Sasha is also a lesbian, while Paige is straight. Paige meets Tim via online dating, and this causes a rift in the friendship. It's not because Tim is a bad person, but it's because Paige now has someone else to spend all of her time with. It gives Sasha a lot of time to think. Hence, quarter-life crisis.
So, the film is about a few things. First, the relationship between our two leading ladies. Second, the relationship between Paige and Tim, which starts out wonderfully but, like all relationships, will have its ups and downs. Third, Sasha figuring out exactly what she wants out of life. For many twentysomethings — or even probably some thirtysomethings — Life Partners is going to have some things to say that will resonate, or perhaps even sting.
You very well might feel like you've seen this film before. I felt like I did, even though the situations and characters have been changed. You'll see most of the conflicts and resolutions coming from a mile away. They're telegraphed to the point that it's hard to feel like any of it is real. "Oh, we're doing this now," you think, as two characters fight about something whose solution is so simple that you want to yell at the characters so they can get over it quicker. It's like a horror movie in some respects: "Don't go into the basement alone!"
It still often works, at least partially. Its leads are charming and good actors, the dialogue is fresh enough so as to not sound like the characters are continually spouting clichés — a pratfall that a film like this one easily could have fallen into — and it's kind of sweet, I guess. Making one of the characters a lesbian certainly changes things up, although it really only exists so that the two fight about everything other than who's attracted to Tim.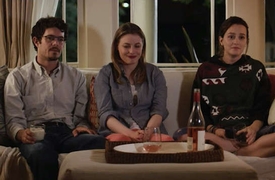 Does Life Partners really deserve a 95-minute running time? Yes, that's not a lot of time for a feature-length film, I'll admit, but it's a bit too long for the amount of content that is presented here. It needed … more, I guess. More content. More ideas. Something in addition to the rift between friends, and the crisis this causes one of them. What could it have included? I don't know, to be honest. Maybe this would have worked better as a short. Or as an 80-minute film. Something.
It's kept watchable thanks to its leading actors. Leighton Meester plays a slacker who needs to get her act together, Gillian Jacobs plays a type-A who might need to start listening more to other people. Adam Brody is just a nice guy who dresses a little goofy. The three of them together share some great scenes, and in particular the two ladies have a good chemistry together. That's … enough, apparently. I mean, the film is also about things, but mostly we keep watching because it's fun to see these actors together.
Life Partners is a film about a friendship and a rift in that friendship causing one of its participants to undergo a quarter-life crisis. If you're in that sort of age group, maybe the film will have some things to say that will resonate with you. Any older and much of the film's charm and purpose will be lost on you. It doesn't have enough ideas outside of that to be worthwhile, even if its actors are all fun to watch, especially when put in scenes together. Life Partners is a marginal success.