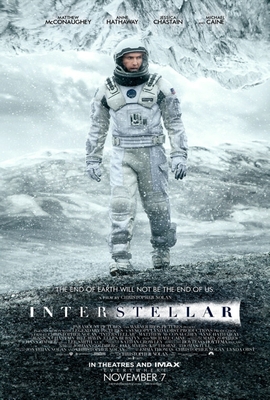 Prior to Interstellar, director Christopher Nolan was 8/8 in terms of making good movies. Sure, some of them weren't great, but they were all good and all worth watching. After Interstellar, he's 9/9, although he hasn't added another great film to his filmography. He has another good one — one that's worth seeing someday, but not one you need to rush out to see as soon as possible. It's got a lot of problems keeps in from being fantastic, but also has enough positives to merit the investment of time required to see it.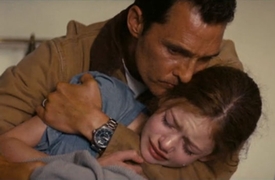 That's a lot of time, by the way. Interstellar runs for 169 minutes, which is about 40 minutes too long, in all honesty. There are sections of the film that could be trimmed and at least one character who could be completely excised. None of Interstellar is boring, mind, if only because it's such a beautiful film that your eyes are always going to be treated to something, but it does begin to feel long at times, and ultimately would have been helped by some tighter editing.
The film is about the survival of the human race. Set in the near future, our home planet is slowly killing off our race. Dust storms are killing off all of our crops, and the oxygen levels are slowly dissipating. In a generation or two, there will be nobody left. Our lead is Cooper (Matthew McConaughey), a former NASA pilot, who has resorted to farming after, you know, the collapse of society as we knew it. But, after a "ghost" gives him coordinates to a secret NASA facility, he's offered the chance to go into space and try to discover a new livable planet.
Yes, that does indeed feel like it escalated quickly. It doesn't when you watch the film, as it takes something like a half hour or so to get to this point. Then we have to listen to scientists expound the hows and the whys of this process. We might finally get to space an hour into Interstellar. That's when the film really picks up. It becomes visually stunning, and the importance of this mission is really hammered home. Time is played with, there may or may not be "beings" watching these events unfold, there are a couple of (easily predictable) twists, and — can I just reinforce how beautiful this movie is?
Cooper is joined on this mission by Dr. Brand (Anne Hathaway), Romilly (David Gyasi), Doyle (Wes Bentley), and two robots voiced by Bill Irwin and Josh Stewart. This is mostly McConaughey's movie, though. In space, we rarely focus on anyone but him, so it's up to him to carry much of the dramatic weight. He seems much less in awe of the visuals than we are, which breaks the illusion a little bit. Otherwise, though, McConaughey turns in a very human performance.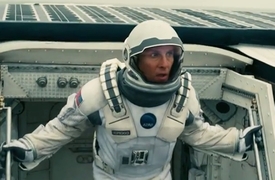 This is important, because — outside of the main "save our species" plot, the film is about humans in all their glory and all their flaws, and it's up to, well, just a select group of individuals to do this; McConaughey is chief among them and bears much of the brunt of this chore. He's helped out by Jessica Chastain, who helps keep us up to date with what's happening on earth, and often gets some emotional moments of her own.
Interstellar sometimes hopes to hit emotional highs and lows and it just can't quite get there. One has to wonder if this is the fault of Christopher Nolan, whose films often ignore human emotions altogether to focus on the task at hand. He did direct and co-write the script, and some of the plot just doesn't play to his strengths as a filmmaker. And when so much of the film — particularly late into the picture — is driven by emotions, it needs to be on-key, and it often just can't quite get there.
If someone were to ask me whether or not Interstellar was worth watching, I would say that it was. I would preface that answer by saying that it's too long and that it often attempted to be an emotional roller coaster that wound up being more like a carousel. There are still highs and lows, but they're more predictable and less intense. Still, it has a few really good performances — that make it far more watchable than it would be with lesser actors — and it looks beautiful from start to finish.