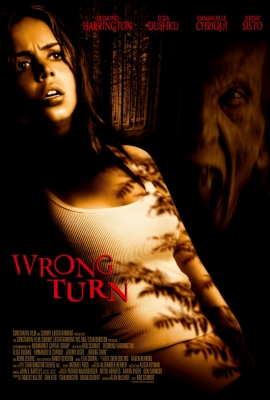 After an opening kill scene that has absolutely no relation to the rest of the plot, save for establishing that, yes, there are killers in a horror movie — a shock, I know — I was already kind of done with Wrong Turn. Maybe it's not cool to write a movie off based solely on a clichéd opening, but I find my tolerance for these types of movies growing less and less by the movie. And then I watched the entirety of Wrong Turn and came away with nothing. I didn't even get an accelerated heart rate. Not a single time — at least, not from fear.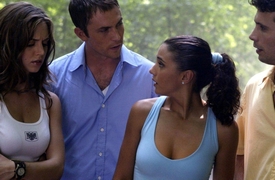 Our story, assuming you can call it that, involves Chris (Desmond Harrington) needing to get to Raleigh for 7:00, as he has an interview. The main road is closed, so after turning around and stopping at a gas station run by a hillbilly — another shock — he decides to take a back road. Distracted driving winds up with him crashing into another car, whose tires had been blown out, and leading to the entire group being stranded. Soon enough, two unimportant members are picked off by the killers, leading to the other four having to fight to survive. And by fight, I mean "continuously run away, occasionally being picked off one by one."
The other main characters: Jessie (Eliza Dushku), who just underwent a breakup with her boyfriend; Scott (Jeremy Sisto), someone who has no defining characteristics; and Carly (Emmanuelle Chriqui), who is annoying and is the character I mostly wanted to die. She lives for too long, by the way. The four of them have to keep on the move so that the killers can't, well, make them dead, so to speak.
The killers are mutated and deformed hillbillies, by the way. We're basically doing The Hills Have Eyes, except in a forest. That's … just about it. Can I go now? Is there anything more to say? I just described the movie and you can basically figure out how it all works from here. Or perhaps you can't. Maybe I need to stay to tell you how the acting is bad, how the characters are annoying, and how there isn't a single scary moment in the entirety of Wrong Turn.
Except now I've just done that, so what else can I say? Well, I'll reinforce how un-scary Wrong Turn is. Looking back, I can't think of a single scene that filled me with dread, or made me fearful that someone was going to die. It's not even suspenseful. My heart rate remained at a resting level throughout the entirety of the film. Maybe I got a little excited after Carly died, but that's most certainly not the film's intention; I was acting completely the opposite of how Wrong Turn hoped I would.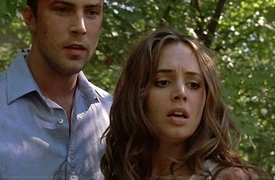 It does try to generate some sort of atmosphere, one which should leave us with the potential to jump at every turn, but then it doesn't capitalize on it at all. I'm not saying it needed more jump scares — one of the things I appreciated about it was that it wasn't peppered with jump scares — but it certainly needed something. Was it scarier killers? No, they're fine. Maybe it was making them seem more like a threat. Even when they kill people, it all feels very pedestrian.
If there's one thing that is really good in Wrong Turn, it's the makeup applied to the killers to make them look deformed. Whoever was in charge of turning these otherwise normal-looking people into … what they look like in this film should be given a raise. These types of things are often overlooked, but it wasn't the look that the killers had that made them less than menacing; it was the way that the filmmakers used them.
Wrong Turn is a very unoriginal and not particularly enjoyable horror movie. It reminds me a lot of The Hills Have Eyes, except that it takes place in a forest and it's not the least bit scary. The only time it got even a little bit thrilling was when its annoying characters were getting killed off — and that's not intentional on the filmmaker's part. The only positive I have to say about Wrong Turn is that the makeup was quite effective at turning ordinary people into deformed mutants. It's too bad the filmmakers didn't use their killers to greater effect. The potential for a scary movie is here.