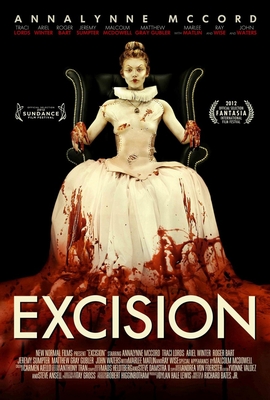 A warped, twisted, and disturbed movie about a main character who fits all of those descriptions, Excision is a movie that you'll likely have strong feelings on just a few minutes in. Either you'll be enjoying the black comedy and its incredibly … "odd" demeanor, or you'll be put off and will want to stop watching. This is one of those films where there isn't a whole lot of room for middle ground.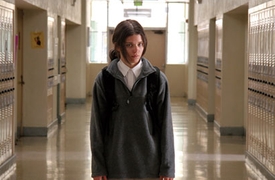 The lead is Pauline (AnnaLynne McCord), a teenager alienated from her family and classmates and who spends much of her free time either fantasizing about all sorts of gruesome and/or sexual things, or practicing surgery on the local wildlife. Pauline wants to grow up to be a surgeon, although nobody thinks that's realistic. She lives in suburbia, so you can bet the film is going to take potshots at that style of life. Her mother (Traci Lords) takes her to "counseling" appointments with the local priest, her younger sister (Ariel Winter) suffers from cystic fibrosis, and her father (Roger Bart) says very little for fear of interfering with his wife. Perhaps he sympathizes with his oldest daughter. We don't know.
Pauline has no friends. AnnaLynne McCord has been made to look ugly, and acts inappropriately at all times. In a sex education class, when the teacher asks if anyone has any questions, she raises her arm: "Can you get an STD for having sex with a dead person?" It appears this type of thing isn't abnormal. It sets you up for the type of depravity you'll be seeing and hearing for the rest of the film.
Excision is not like most other films you will see. It's hard to place it in a genre, it's difficult to properly describe it, and it's likely going to be impossible to tell you whether or not you'll like it without having you first partially experience it. It's here where I let you know that this is director Richard Bates, Jr.'s feature debut, but he made a short in 2008, also titled Excision, that would serve as the feature's basis. If you can watch that, it'll give you a good indicator as to whether you should check out the feature-length version.
I suppose Excision is a black comedy horror movie. Some of its strong imagery falls decidedly in the horror category, while the overall tone and many of the dialogue exchanges are more along the lines of a black comedy. A really depraved and twisted black comedy, but it's aiming to make you laugh regardless. You have to have a warped sense of humor, and not find violent and sexual — often at the same time — too disturbing in order to make it through this movie.
Excision does a wonderful job at finding the right tone for this material. It allows us to laugh for most of it, be disturbed at all the right moments — all while underlying tensions are slowly built up. When those finally get to reach their resolutions, they're powerful. The last ten minutes of the film are spellbinding. The moment before the credits is incredibly powerful. And this all works because of smart filmmaking, the right tone, and a compelling main character.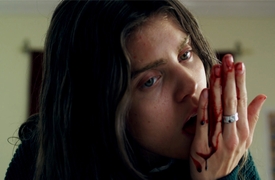 Pauline could have easily been another "alienated teen," the likes of which you've experienced dozens of times before. You haven't seen Pauline. She is smart, truly disturbed, and more endearing than the "ugly makeup" and general attitude would initially make you think. While she's putting off everyone around her, she's making us warm to her. Inner-monologues and a genuine love for her sister ground her — all while we see her violent and sexual fantasies, to which nobody else is privy. You can almost understand why this is what gets her going, and that might be the scariest thing of all.
AnnaLynne McCord makes this movie her own. Without her risky performance, which constantly has her doing things you won't expect to see, the film would lose an edge and would likely not warrant any sort of discussion or viewership. She goes full-out for Excision, and I think it would all fall apart if she didn't. You get to see a darker and more depraved side of her than you likely ever expected, and she delivers one of the best "alienated teen" performances in years.
If anything I said has made you think that Excision is a film you should watch, go ahead and watch it because it's likely something you'll enjoy. If you've been repulsed and disturbed by what I've described, move on and don't look back, because you will have a terrible time. I enjoyed Excision, but my sense of humor is extremely warped. It has an undeniably great lead performance by AnnaLynne McCord, some powerful imagery, and a fantastic finale … assuming you make it that far. If you do, you're in for a treat.