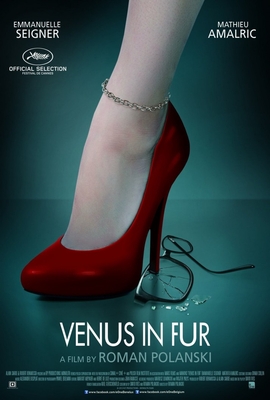 A cat and mouse game of the best degree, Venus in Fur is a film that's as thrilling and constantly entertaining as any thriller you can find. It consists almost exclusively of two people either acting in, or talking about, a play, and yet, thanks to wonderful filmmaking and great acting, each line feels like a shot fired in a war. The two actors — and only actors seen in the whole film — are tremendous, and the way the film blurs the lines between the real world and its "play world" keeps you constantly on-edge.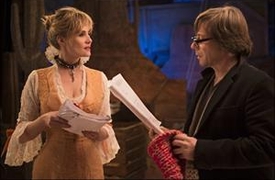 The film focuses on Thomas (Mathieu Amalric), the writer-director of a play, which is an adaptation of the novel Venus in Furs. (The film itself is an adaptation of the play, Venus in Fur, which has this same setup. Confusing, isn't it?) After a long day of auditioning actresses for the female lead, a final woman shows up at the theater, late, and says she wants to audition. Her name is Vanda (Emmanuelle Seigner). After much convincing, she's finally able to audition.
What follows is phenomenally entertaining. Thomas and Vanda begin to recite a few pages from the play's script, pausing every now and then as Vanda asks for clarification or suggests something be added or altered. And then they do a few more pages, clearly past the point of audition. Soon enough, they're essentially performing the entirety of the play, still with these small breaks. And, before long, it's difficult to see where the "real" dialogue stops and the play begins. The two mingle and mangle, one often mirroring the other.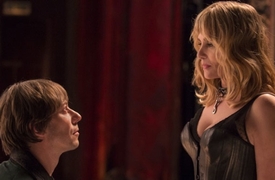 It's a power struggle, a fight for control, or whatever way you want to describe it. "Battle of the sexes," perhaps? Regardless of what you want to call it, it's certainly a battle, and it's fought primarily with words. There are also some actions — both in the play and in "reality" — but it's mostly words, the way those words are said, and the true intent behind lines that might initially seem shallow but are actually about something far more.
The joys are in the dialogue and the way the dialogue is said, the facial expressions of the actors, and the way the film moves back and forth between the play and reality — before it blends the two and makes them seem as one. It's simply entertaining. It's wonderfully paced, too. There isn't a single dull moment, even though the only scene with any real "action" is one of the very last. (And, boy, let me tell you that the scene about which I'm talking is truly bizarre and creepy.)
The film's leads are understandably the stars. This is a two-actor film (and play), and without strong performances from even one of them, it could all fall flat. Thankfully, both Mathieu Amalric and Emmanuelle Seigner are great. Seigner commands the screen and gets the more showy performance, while Amalric gives her the stage, lets her run with it, but shows his worth during the few times the script calls for him to do so. Seigner enters with a bang and until such point that the film ends, our eyes remain on her for as much as possible. She's that good here.
In a play, the use of space on the stage is one of the most important aspects of the production. In film, time and space often isn't something on which a viewer will focus. That's not true here. The film takes place in one location, with (primarily) one set, and it's amazing to think just how director Roman Polanski manages to use this space. You might think it would get boring, or stale, but it doesn't at all. An informed viewer will note how he manages to make each shot seem unique, despite the fixed location.
Venus in Fur is a highly entertaining adaptation of the play, which is an adaptation of a book. It features great filmmaking, fantastic acting, a tight pace, constantly interesting dialogue, and a wonderful back-and-forth between its two lead (and only) characters. There isn't a single dull moment found within it, and the film is a testament to how, even at a rather advanced age, Roman Polanski can still make a great movie. I can't think of a reason anyone wouldn't want to watch Venus in Fur, unless of course you hate really compelling movies.