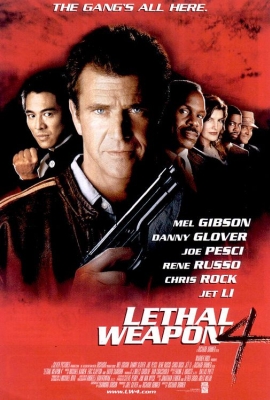 It's rare that a series is still good by its fourth installment. With rare exceptions, by this point the films are still being made with the sole intent of making money, often by few, if any, of the original filmmakers and sometimes not even starring the same actors. I suppose it's refreshing that much of the original team has stuck around for a decade to create four Lethal Weapons. It's just a shame that this fourth chapter is as lifeless and uninspired as if it had been done by a soulless drone.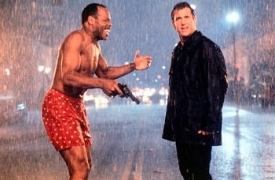 That's not to say that it's necessarily bad, but it doesn't have anything in the way of being fresh or having any life. It's just another action movie; it's no longer about the characters played by Danny Glover and Mel Gibson. It's right there in the poster: "The Gang's All Here." There are too many supporting characters who take away the focus from the leads, and the only idea of originality the film brings to the table is importing Jet Li from China to bring some martial arts to the fist fights.
Glover and Gibson do get the starring roles, returning as Sergeant Roger Murtaugh and Sergeant Martin Riggs respectively. They're a pair of cops who have been through a lot together — you would have to see the last three films to know this — and are starting to cause too much damage to the city for the police budget to handle. As a result, they're promoted very early on to the rank of Captain and told to stay off the streets. That would make for a dull movie, of course — or so the filmmakers think — so it ultimately doesn't make a whole lot of difference.
The plot of the villains this time around involves human trafficking. Uncle Benny (Kim Chan) and Wah Sing Ku (Li) are smuggling people into America. Murtaugh and Riggs stop a shipment, and then they find themselves attempting to bring down the entire trafficking operation, all while attempting to protect their families from harm. Yes, families. Riggs and Internal Affair Agent Lorna Cole (Rene Russo) are now together, and she's with a baby. Murtaugh has always been the family man, but now one of his children is pregnant, too. Unborn babies automatically raise the stakes, right?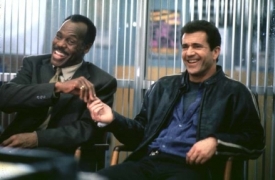 In addition, there are now not one, but two supporting characters primarily designed to make us laugh. Do you remember how the Joe Pesci character failed at that task in Lethal Weapon 2? Well, he's back to doing that in this film. And he's joined by none other than Chris Rock, because one high-pitched, fast-talking voice wasn't enough, apparently. Ear plugs are advised if you're going to sit through Lethal Weapon 4.
And I don't recommend attempting to sit through it. All of the action scenes not involving Asian actors are recycled from the earlier movies, there's absolutely no time set aside for the dramatic moments which made the first and third films stand out, the "funny" characters will test even the most patient among you, and it's the longest, most drawn-out film in the series, running for over two hours and only needing about half of that. The plot is that thin.
Yes, it's true that it's fun to let Jet Li use martial arts to beat up all of the good guys, and there are still a few — although nowhere near enough — scenes in which Danny Glover and Mel Gibson get to verbally spar with one another, but it's all in service of a lackluster script and complete lack of heart on the part of the filmmakers. Lethal Weapon 4 feels like a paycheck movie, one which is made so that the people involved can get enough money to do something they truly want to do. The spark is gone, the energy is vacant, and it shows through on-screen.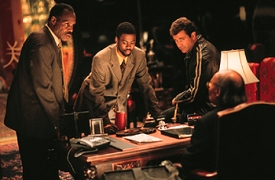 And because you can tell how little the filmmakers care, it's tough for you to invest in the production. The times have changed and we've seen this type of movie a great deal in the decade since the first chapter. Now, it all seems like formula. It takes something special in order to justify a movie like this one, and there's absolutely nothing special about Lethal Weapon 4. It's dull and predictable and if the most creative thing you can do is importing talent from overseas, you're kind of done, aren't you?
I'd declare the franchise dead, but then I was prepared to proclaim exactly that after the second one (which was still better than this). I suppose if everyone wanted to come back — and did so not for the money but because someone came up with a good idea that would make for a good movie — they could have a fifth one, but it seems like everyone is ready to move on. I know I am.
Lethal Weapon 4 is the worst movie in the series by a rather astounding amount. There's very little to like here. We've seen all the action before, most of the dialogue seems unnatural and scripted, there are no pauses for characters to develop or even say something that isn't directly related to plot progression or cheap humor, and it's all overlong and dull. It's actually difficult to stay awake while Lethal Weapon 4 plays. This is the type of movie made so everyone involved can finance something they actually want to make. I just hope you spend your money and time on something better.