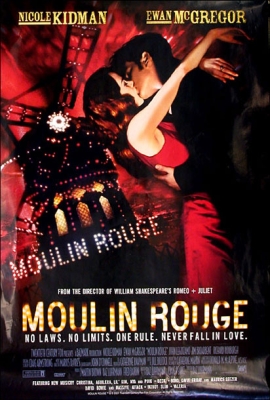 Moulin Rouge! is a movie that you will either love or hate. It's an exercise in style, in art, and in energy. Can a film be completely sustained by song, dance, frantic editing and a single theme (love)? Moulin Rouge! hopes to prove that, yes, that is something that can happen. I'm not necessarily sure if it's successful, but I know that I'm not upset that I watched it. Seeing it, just to know that you've seen it, is worthwhile.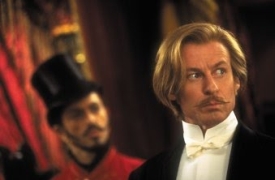 Our protagonist is Christian (Ewan McGregor), a writer who begins the film reminiscing about the past, which is where we will spend most of our time. He has come Paris to write with the Bohemians, a group dedicated to, above anything else, love. He winds up visiting the fabled Moulin Rouge, where he hopes to pitch a script to a play. Instead, he winds up falling in love with one of the couresans, Satine (Nicole Kidman). She, likewise, also falls in love. The two have a chemistry, which makes it all the sadder that (1) she has to keep company with the Duke (Richard Roxburgh) in an attempt to convert the Moulin Rouge to a proper theater, and (2) she is terminally ill, a fact not hidden from us but unknown to both leading characters.
What follows is an unconventional take on a relatively conventional story. One woman is torn in between two men, with another man, Fidler (Jim Broadbent), the owner of the Moulin Rouge, pushing her in the direction she doesn't want to go. You've seen this type of story before, but you won't have previously watched a movie like this one. Or, at least, I don't remember seeing one like it.
The first thing you'll notice is the amount of color that saturates almost every frame. Bright, vibrant colors fill each shot. Red — further making you think about love — is the most prominent color featured here, and I'd be surprised if there was a single scene without the color red. Maybe there's one later on, when the power of love comes into question, but I can't immediately think of one. You don't see many films with the same type of mis-en-scene as this one.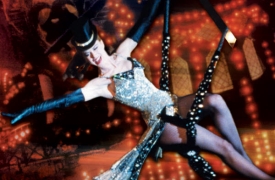 You'll also notice the way that it was filmed and edited together, which involved a great number of setups and as many cuts as you'd normally see in a music video — except the frequency of cuts lasts for the two hours that Moulin Rouge! is on-screen. It's initially off-putting, but the pacing is beneficial in the long run, as it allows for no breathing room, and no time to lose focus. While there isn't a whole lot to the plot, the way the film has been assembled makes it seem like there is.
Part of it is because of the overwhelming feeling you get from watching a movie like this. It goes for sensory overload, and it definitely succeeds in doing that. Whether or not you'll be able to tolerate the sense of style that director Baz Luhrmann goes for will determine how effective the film as a whole is. You won't like the numerous musical numbers, you won't enjoy the performances, and the love story won't be beautiful if the style with which it has been crafted is irritable.
What might be off-putting is the idea to combine various time periods, despite the majority of Moulin Rouge! taking place in Paris in 1899. That's the setting, but the musical numbers mix and match pieces of music from times much later than when the film takes place. The Sound of Music is one of the first main titles you'll recognize. Later on, you'll get to hear Jim Broadbent belt out "Like a Virgin," which is one of those must-see experiences. And the opening and finale make it seem like the whole production is being shown in the 1950s — the villain also gives it this feeling. It's an odd blend but it continues to give the film a unique aesthetic.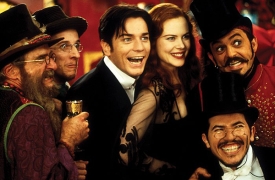 Perhaps the most surprising thing about Moulin Rouge! is that its leads can actually sing quite well. While the dubbing is sometimes quite obvious — part of me wants to believe this was intentional as a throwback to older musicals — the actors were the ones doing the singing in the studio, and they do an admirable job, despite neither McGregor or Kidman being singers in addition to acting.
As their characters, both the actors are pretty good, too. Kidman is the highlight, being both the target of desire and also someone who has her own motivations. McGregor is generally strong, although some of the more emotional moments were a little silly. In the supporting roles, both Broadbent and Roxburgh are over-the-top and silly, which is hilarious. Roxburgh, especially, has an old-school villain feel about him. He even has a mustache that you're just waiting to see him curl.
Moulin Rouge! might or might not be a great film, but it's ambitious and absolutely worth seeing regardless, just to say that you have done so. It's a film where overproduced musical numbers fill the screen more often than anything else, shot with bright colors, a great number of different camera angles, and as many edits as your typical music video. But it all makes for a unique experience that livens up a story that you've seen before. I can't recommend seeing Moulin Rouge! enough, as it's definitely an experience you need to have.