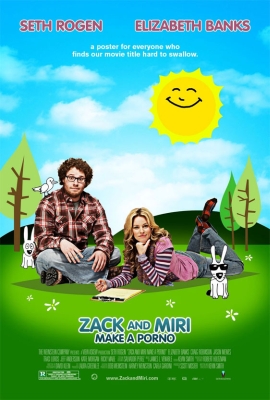 Zack and Miri Make a Porno. Do they? Do they, really? Does it ever get finished, or does the rom-com story get in the way? It certainly takes away the attention from the aforementioned making of the porno. I think that if this is the question I have after seeing the comedy, I probably wasn't entertained enough as it was playing. I got tired of what it had to offer, which I found odd considering I generally like Kevin Smith and his movies. Perhaps by trying to copy Judd Apatow, Smith forgot what he was doing.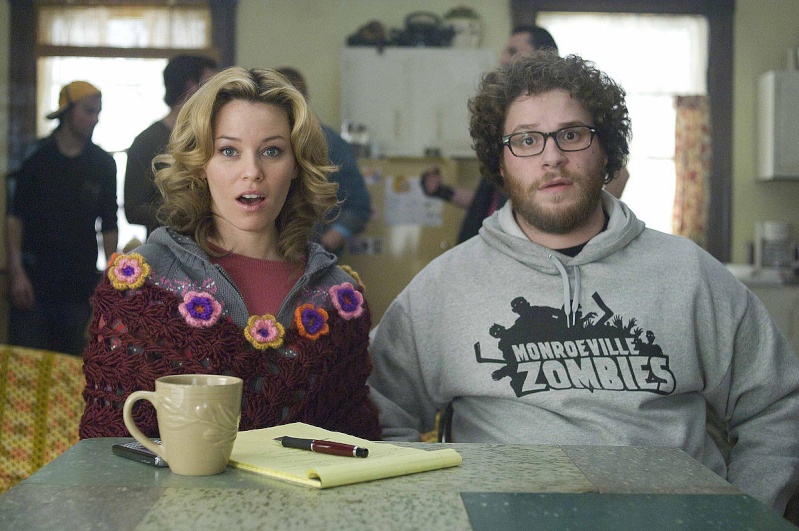 I don't say that in jest, either. Zack and Miri tries desperately to be the "new" breed of rom-com, popularized years earlier by Apatow. We have the profanity and gross-out humor for the guys, and the sweet, sensitive side for the girls. At least, that's what the film wants to do and, yes, those are stereotypes. It blends those two elements, attempting to appeal to everyone. An offensive comedy having a heart is fine, but when it detracts from the jokes, I'm not sure if I can approve. When Zack and Miri verges into this territory, the laughs get thrown out the window.
The film stars Seth Rogen and Elizabeth Banks as friends-for-life and roommates living together in a strictly platonic arrangement. They're also flat broke. Once the water and heat go out after they neglect to pay the bills for a few months, they come to the only logical conclusion: they're going to finance, shoot, and distribute a pornographic film. It'll be easy, they think, and the only reason most people don't do it is because (1) they're too proud and (2) they have families. Zack (Rogen) and Miri (Banks) don't have any of that, so they begin production shortly after.
Nothing goes wrong when people — especially amateurs — try to make a movie, right? Of course not! You get to experience all of the pitfalls that people fall into when making a movie, porn or not, during this film. In fact, remove the pornographic element from Zack and Miri, and you've probably got a decent account of what went on when Smith was making Clerks, his first feature. This is likely a lot more autobiographical than is initially let on.
Little about what follows is surprising. You know early on how it has to progress. Do the two leads actually have feelings for one another? What do you think? The real questions are whether or not these feelings will (1) get in the way of the production and (2) be realized by the end of the film. It's a rom-com, so you've probably got a good idea about the answer to the second point. How about the first one? Well, I'm not entirely sure. It doesn't wind up mattering.
Zack and Miri is a very crude movie. It's a Kevin Smith film, so you can expect a lot of four-letter words, often strung in such a way that if you played this film on television, entire scenes would have to be re-recorded or else you wouldn't be able to hear a word that is said. That's kind of charming, isn't it? That a grown man can love profanity this much? I don't know, I think it is. It makes the dialogue, at times, insufferable — when it goes too far over the top, anyway — but for the most part it's … "enjoyable" isn't the right word, but it's something similar.
You'll probably be offended by parts of Zack and Miri. That's fine, and in many cases, the intent. You'll also laugh a bunch, assuming this is the type of comedy you like. I found myself giggling a bit at the juvenility of the whole exercise, as well as some of the situations. It wasn't really a laugh-out-loud experience for me, but I'm sure other people are going to be laughing for its entirety.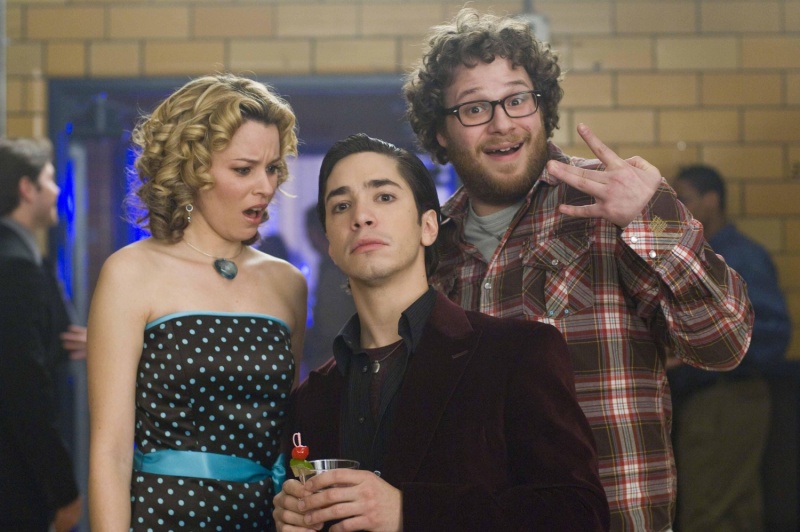 However, when Smith tries to make the romance, and the feelings of the two leads, the central focus of the movie, it almost completely falls apart. You know it's coming, and you hope it'll try to do something different with a worn-out concept, but all it does is fall into cliché. That would almost be fine if the laughs didn't dry up, but they get almost completely removed for a good 15-20 minutes, which is too long a drought for Zack and Miri to overcome.
Some of the reason that I didn't like Zack and Miri as much as I might have is because one of the leading characters is played by Seth Rogen, whom I rarely enjoy. Elizabeth Banks is more my taste, and she brings a much needed energy to the pairing, as Rogen is generally more lethargic. The supporting cast is funnier than either lead, however, with fairly large roles going to Craig Robinson (the porno's "producer") Jason Mewes (one of the lead actors) and Justin Long (as someone who meets Zack at a high school reunion and steals the show in what seemed like an ad-libbing battle between the two actors). There are more, too, but those are the most memorable ones.
Zack and Miri Make a Porno is certainly an apt title, as that's what happens for the majority of the film. They try to make a pornographic film. They also go through a weak rom-com storyline that takes away significantly from the rest of the film. Is the movie still funny? Sure, I suppose, if you like this kind of crude, juvenile, profane humor. If you don't, you'll come away from the movie feeling as if DIRTY WORDS GO HERE.