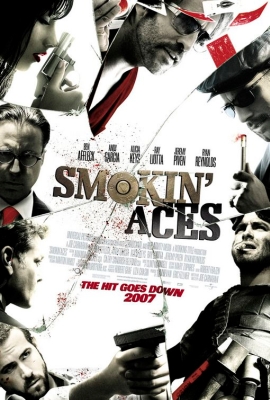 It takes a while to get into the flow of a Smokin' Aces. Here is a film that wants to do so much in such a short window of time that it doesn't give you any time to adjust before it's throwing tons of names, personalities, and back stories at you. It's the kind of film that wants you to watch it again right away after you have some clue as to what's going on, just so its beginning doesn't come across as terribly confusing. Eventually, you settle in.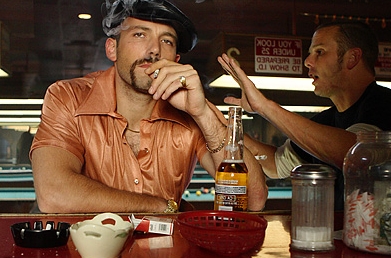 That doesn't really make the film good, but at least you'll be able to follow what is happening. When you get in sync with it rhythm and you "get" where each character is coming from — it helps that some of them are killed early on, too — it makes the experience a lot more enjoyable. Think of this as Snatch meets Ocean's Eleven crossed with Reservoir Dogs, and you'll have a good idea of just how much attention it's going to take to properly follow. Writer/director Joe Carnahan wants to blend all of these films together, and while he's moderately successful, the result is worse than those all of the elements making it up.
The basic idea here is that there's one man who needs killing/capturing/protecting, depending on what your character's motivations are. He, a Vegas-magician-turned-gangster named Aces Israel (Jeremy Piven), is located in the penthouse suite of a fancy hotel. A bunch of assassins are trying to kill him. A couple of FBI agents are hoping to capture him. A few of his bodyguards want to protect him. There are too many characters to begin listing who they are and what they're specifically doing.
Okay, so you've got the first third of the film as pure exposition, the second third where everything happens, and then a final third to wrap it all up, including the reveal and explanation of any betrayals that had occurred up to that point. That's okay, I think, except that none of the exposition winds up being terribly important, and none of the reveals at the end matter, either. Essentially, we have 1/3 of a good movie here, while the rest is more worthless than worthwhile.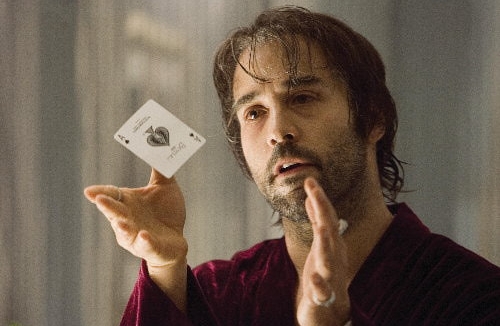 Don't get me wrong here: When the action is going on in this hotel, and there are a bunch of people fighting each other in order to get to this one man, Smokin' Aces is a lot of fun. It has a lot of good/noteworthy actors, it's excessively violent, and it's highly stylized. There's always something to look at because of the way that it was shot and put together, and if the whole production contained the manic energy that this middle third did, it would probably be a film that is definitely worth your time.
I will say that the final scene of Smokin' Aces is fantastic. I won't spoil it, obviously, but it's a wonderfully constructed point in the film. It is completely dependent on one actor's performance, and it winds up being a haunting and powerful moment. That final shot is going to be something that you'll remember for a good length of time. If there's no other reason to watch this movie, it's because of its finale. This is only ruined by the fact that few of the events surrounding it matter.
That's really the big problem I have with Smokin' Aces. For a film that spends so much time introducing its plot and characters, it doesn't really have a reason to do either. The central premise is fairly easy to describe, and the characters are thin caricatures and nothing more. They're all colorful and we can tell them apart quite easily, but there's nothing to any of them, which makes it feel as if there's no reason for us to have to spend so much time with them at the beginning.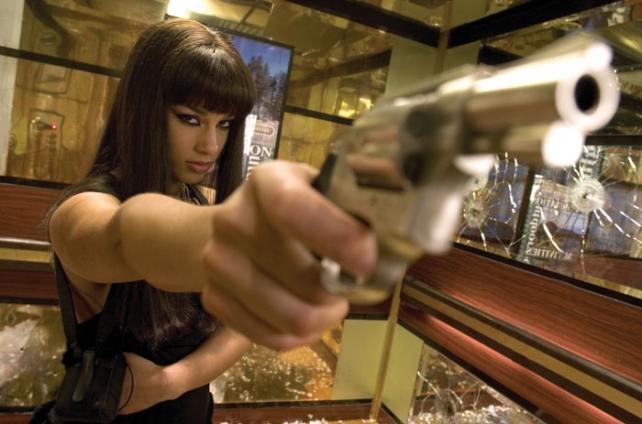 One of the most refreshing elements of Smokin' Aces is in regards to its casting. There are some big names in the film — Ray Liotta, Ben Affleck, Jason Bateman, Ryan Reynolds, Andy Garcia, among others — and you expect them to live to the end because they're big names. That's not what happens. Some of the early deaths are surprising simply because of the actor playing the character is well-known and you expect to see them show up for longer than what winds up amounting to little more than a cameo.
This is a film that tries to do something fresh. You have to give it credit for that. It doesn't completely — or even mostly — work, but the attempt at something slightly original can always be appreciated. It's a sometimes fun, sometimes worthless, experiment, and I can applaud it for that. The good points make the bad ones worth sitting through, and while the story and characters aren't worth paying attention to, wouldn't that really be a bonus? It's just a shame that the movie spends so much time on them; if it jumped almost straight into the action, it might have been more successful.
Smokin' Aces isn't a success, but it comes close enough that it's almost worthwhile, just to see the middle section play out. The ending scene of the film is also very impressive, and I know that I probably won't be able to forget it for a long time. This is a film with a strong cast who play forgettable characters, and a convoluted and confusing plot that ultimately doesn't matter a whole lot. It's a fascinating production, even if it isn't terribly good.