The Legend of Bagger Vance is a film about finding oneself, not about defeating an adversary. True, it largely takes place during a golf tournament, and we know who we want to win, but the opponents aren't bad people with some personal stake. We don't necessarily want to see them lose. They're just playing a game they love. They have yet to wrong us or the protagonist.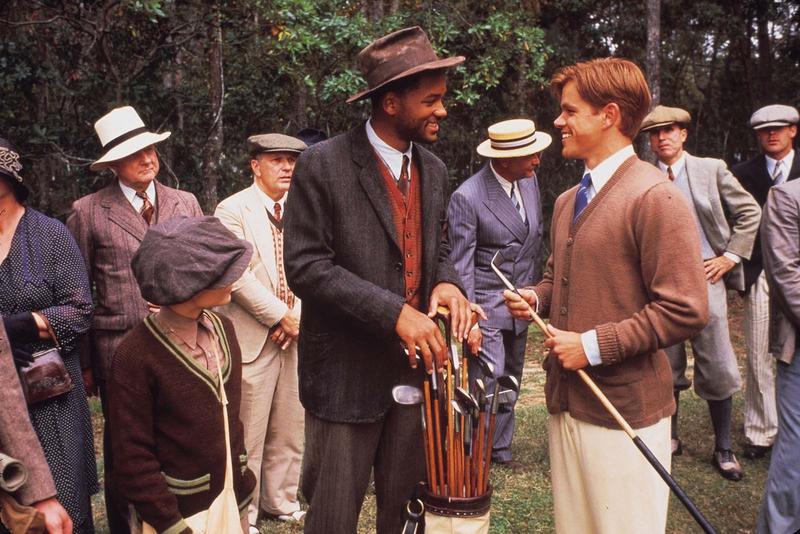 No, this is a film content with presenting us with a few characters who are all nice people. Golf is a gentleman's game, after all. Our lead for much of the film is Rannulph Junuh (Matt Damon), although I would listen to an argument that it's really a small child named Hardy Greaves (J. Michael Moncrief), who narrates the film from old age (voice of Jack Lemmon), and is also the character whose perspective we use. Regardless, the story is about Junuh, as he's the one who can play the game of golf — or could.
See, in the 1916's, he was an amazing golfer. After being drafted into the war and being traumatized like many young men, he gave up the game and took up a different one: Poker. And booze. Lots of booze. After returning to his small town after a lengthy absence, he explains to young Hardy that when you drink, you aim to kill brain cells. First, the sadness cells die, and you smile. Next go the quiet cells, meaning you speak your mind (or what's left of it). But it's okay, as the stupid cells die next, meaning you can only say smart things. Finally, the memory cells (the hardest ones to kill) are massacred. Quite the story to tell as 10-year-old. That's how far he has fallen.
Unfortauntely, we're now in the early years of the Great Depression. Young Adele (Charlize Theron) has inherited a gold course from her now-dead father, and has decided that instead of selling it, she's going to risk her future on one final tournament. She convinces two of the greatest golfers ever to play, Walter Hagen and Bobby Jones (Bruce McGill and Joel Gretsch), but the townspeople demand a local man to enter as well. Wouldn't Junuh be perfect if only he could re-learn the game he once loved? Gee, that'd be something.
Enter Bagger Vance (Will Smith), who seems to know a thing or two about golf. He appears out of nowhere as Junuh is practicing his swing, and after little convincing, our main golfer has a new caddie (for the price of $5). Problematically, the tournament is days away, and Junug still hasn't found his swing. It's up to Bagger and Hardy to fix this so that he can win the tournament, the $10,000 prize, and Adele's heart.
Seems like the set-up to a lot of sports movies, doesn't it? To be fair, it is. It's another one where the main character has to overcome certain adversities in order to win — although they're practically all mental in Junuh's case — and it'll likely come down to one final shot/match/inning/game/you name it. You know how these things generally play out. The only real question is whether or not Junuh is going to win or fail.
Without wanting to ruin it, The Legend of Bagger Vance doesn't really deliver on the winner of the tournament. Not that it matters, to be honest, as the tournament, like most sports, is there as a basis for a character drama. I actually liked how this movie didn't want to give us a definite answer in this regard. Oh, you know how it plays out for the characters involved, but the actual winner of the tournament is left vague.
But let me tell you something: I was definitely holding my breath in those last few shots of the tournament. It might not have really mattered (why Damon's character needed to win in the first place considering Adele didn't initially propose it isn't really explained, and it's just left to us to assume that the town needs a boost in morale or something), but I really wanted to see Junuh win that tournament, overcome his personal demons, and possibly even cure cancer. I liked this guy, and hoped all of his dreams would come true.
That's also true of Will Smith's character, although he doesn't seem to have any problems or anything he needs to do. He wanders into our picture with the sole purpose of helping Junuh. That is why he was written, I assume, and while it works as your typical sidekick role, the film would have benefited if he had depth himself, or if Junuh had to return the favor in some way. The kid was more annoying, though, and I wished we would have spent much less time with him than we did.
Hampering the film as well is Charlize Theron and her annoying Southern droll. Or at least, and attempt at one. Having a barely passable American accent at the best of times, Theron comes off as annoying because of an aggressively accentuated accent that doesn't ever sound natural. The other actors were much more subdued in this approach, and I liked them more because they weren't constantly annoying me with the way they spoke. Theron generally gets other parts of the performance right, but the accent overpowered the rest and was the only thing I could really pay attention to when she stepped into frame.
The Legend of Bagger Vance has a man attempting to find himself all while playing what many characters call the "Greatest game ever made." The golf tournament doesn't matter, but our main character does. After spending two hours with him, I hoped that everything he ever wanted would come true, and had many held-breath moments over the course of the film. It does have a couple of annoying characters and Will Smith's character never quite worked, but on the whole, I quite enjoyed this film.