We see images of a young girl who has been beaten, burned, and has had words carved into her skin. The pictures look real, although we're unsure of whether the filmmakers created them, or if they're real photos. An American Crime does claim to be based on a real trial and real events, after all. Regardless, the pictures are disturbing, and your guard is thrown off right off the bat. We then begin the real film.
The plot jumps back and forth between flashbacks and a trial. We're not entirely sure what the trial is about, but we do know that these pictures are involved. The narrator, Sylvia (Ellen Page) makes us sure of this. In the flashbacks, we see that she has a sister, Jennifer (Hayley McFarland), and that their parents are a part of a carnival. Not wanting to take their children on the road again, Sylvia and Jennifer are dropped off at the house of one Gertrude Baniszewski (Catherine Keener). The courtroom drama tells us that the agreement was made after the parents only knew Gertrude for one day.
The deal made involves the parents giving Gertrude $20 for every week that the children are looked after. Keep in mind that the film takes place in the 1960s. and for a struggling single mother, that money could mean the world. She already has 6 children to look after, so the cost to keep two more is probably less than that $20. Or at least, that's what she figures, and we don't question this. We especially don't question it when the first payment is late, as Sylvia and Jennifer are whipped as punishment for their parents' mistake.
The oldest of Gertrude's children is Paula (Ari Graynor), who has a boyfriend at the beginning of the film. Paula tells Sylvia that she is pregnant, but forces Sylvia to promise that she won't tell a soul. When Sylvia breaks that vow, Paula tells her that she'll have to pay for that. The pregnancy becomes a major part of the story, as Gertrude believes it to be a mark against the family, and places the "rumor" that Paula is pregnant being spread solely on Sylvia's shoulders.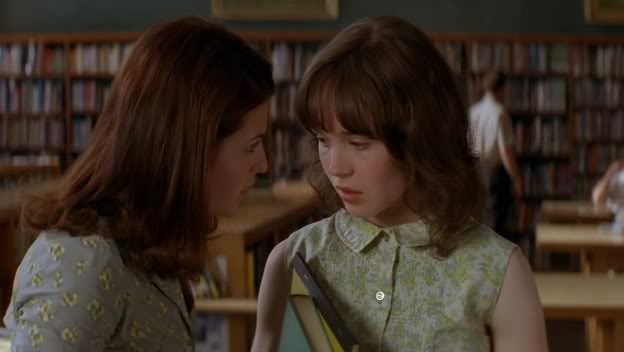 We've already seen what Gertrude does to punish Sylvia. It gets much worse than that, unfortunately. We quickly realize that those photos we saw in the beginning we of Sylvia, and that the person on trial is Gertrude. We're not sure how large of a role Gertrude had in making Sylvia this way, but we learn that over the duration of our time spent in her house — but mostly in the dungeon that she calls the basement. This is where Sylvia ends up, and also where most of the terrible things of the film occur. Remember, this is based on a real case and real testimonies by those involved.
Suffice to say that this isn't an enjoyable film to sit through. True, there are more violent films out there, but they usually don't make you care about the people involved. An American Crime allows you to empathize not just with the victim, but also with the people who are committing the crime. Oh, they're definitely in the wrong here, but you can understand the reasoning behind almost every scene in the film, which helps you to care about what's happening.
There's a very human aspect that makes it feel like it's really happening. Of course, it did really happen, so that helps too, but from just what we're shown in the film, we get that feeling as well. The performances help as well, especially the one given by Catherine Keener as the abusive surrogate mother whose life is in ruins. Her character frequently seems overwhelmed by the world, something that most of the audience will be able to relate to in some way, and we can relate to her, even if we disapprove of what she does.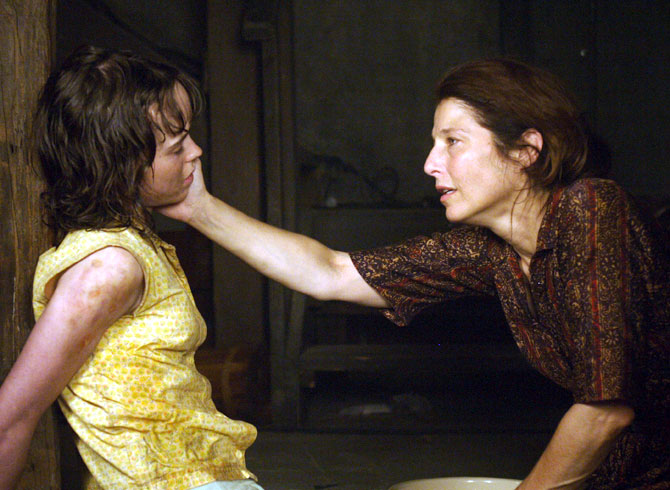 There's also a well-executed twist near the end of the film, which I'll admit caught me. It's a little addition that I think was a nice touch, even if it makes very little impact to the overall plot. It pads the running time a tad, but when it happens, you smile and then you frown. The smile comes from the fact that director Tommy O'Haver pulled one over on you, and the frown comes from what the twist means. There might be a tear as well.
By the end, I was quite emotionally invested in this film. Granted, a good film will get me in that state quite easily, but it doesn't often have me empathizing with everyone involved. Like I said earlier, even the established villains in this film can be understood, and you can see everything from their side of things too.
Do I think An American Crime is worth watching? In short, yes I do. I don't think it's for people wanting a pleasant or happy viewing experience though, because they will be disappointed both because it's not what they want, and also because they'll miss the parts of the film that work. But if you want to see a well-made film that's also incredibly difficult to watch, then you won't go wrong here.
An American Crime is a good film about a real life case that was horrific. It feels real, whether or not many liberties were taken in its creation. The acting is fantastic, the characters are empathetic, and even though it's an unpleasant viewing experience, it's still not one that you should necessarily avoid. This is a well-made film that managed to get me emotionally invested in its story. It even threw in a cheeky little twist that gave me a nice surprise.