Up until the final moments of Fear, I was enjoying myself. I watched a love story unfold about a sixteen-year-old girl named Nicole (Reese Witherspoon), and a somewhat older David (Mark Wahlberg). They seem like a good pair; she's in need of someone to nurture her, and he's just the guy to do it. He's sweet, gentle, while sounding and acting like such a nice person. Except when he wants a Coke, because then he'll demand it. This is important, trust me.
One moment in the film, David tells Nicole that if something's too good to be true, it usually is. He says that everyone needs some sort of flaw, and asks her what hers is. Apparently, she won't go all the way on the first date. He says that isn't a flaw, and just makes him love her even more. Or maybe he doesn't drop the "L" word that early, but does so soon after. She never asks what his flaw is, although that probably would have been a good idea, considering it's a big one that we learn about slowly as Fear progresses.
The tagline is "Together forever. Or else." From that, you can probably figure out what comes next. The person who seems like such a sweet and caring individual ends up being an obsessive type, one who won't take "no" for an answer. Ordering Nicole to bring him a soda is initially what tips her father, Steven (William Petersen), off about David, because he didn't say it like he said everything else. There was authority in his voice, unlike the almost whisper-like quality that is present before. And then there was the quick look that the two exchanged afterward. His David toying with Nicole's father?
As it turns out, he's really obsessive. Like, shrine-building obsessive. It takes a long time for him to get to this point though, first we need to build suspense. We get a feeling something isn't right early on, but we brush off these feelings. And then we find out just how far his compulsion towards her goes, and somewhat lose interest. The build-up is far more exciting than the payoff in this case, and if there hadn't actually been anything wrong, and it was just the result of a paranoid father, I probably would have enjoyed it even more.

I'm not going to go so far as to say it isn't a fun film, because if I had a good time for two-thirds of the time it played, it's still a good film in my eyes. But I will say that the final third — which ends up being silly and way too drawn-out — almost made me really dislike Fear. For the final thirty or so minutes, I was just hoping for it to end, or for some twist to come along that made it all worth watching. But, alas, it was not to be, and I left disappointed.
The ending also just comes out of nowhere, with the credits rolling a good five minutes before they should. A lot of things are resolved, but I was left with a lot of questions, like wondering who David really was. Was that even his real name? How old was he? Has he done this before, or was this his first target? These could have easily been answered, but instead, the credits just begin to roll before my curiosity was satisfied.
I will say that this type of role is perfect for Mark Wahlberg though. He usually has trouble delivering lines with a lot of weight and intensity, and almost always seems like he's too nice of a person. Playing a character that uses that has his strength is just excellent casting. Witherspoon was believable as a lovestruck teenager, while Petersen played an overbearing father just fine. Other roles were unimportant and played with indifference.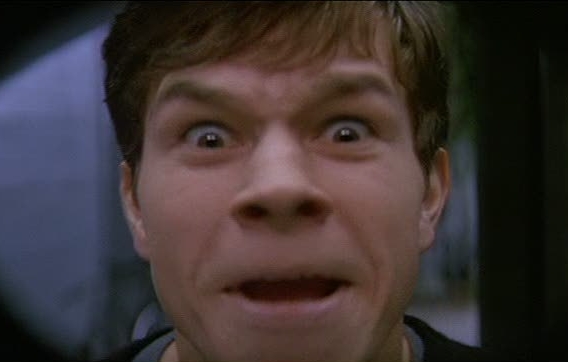 I did like the early portions of the plot, even if it's just about a teenager fighting with her father and step-mother, and a charming young man entering her life. As a matter of fact, the most interesting relationship in the film is that of Nicole and her dad, and you bet it'll get resolved one way or another by the time we reach the end. It gets less focus as we progress though, and it becomes more about David and his connection with Nicole and her immediate family.
If there's one good thing to say about Fear, it's that it can be deceptive if you know absolutely nothing about it. The real tension doesn't really happen until the first hour is over, and if you weren't aware of either the genre or basic plot, it'll sneak up on you and give you a surprise. Granted, you've read up until this point, so you'll be privy to that information, but if you've somehow started at this paragraph, go watch the movie now, and then read the rest of this review. Or maybe you're just really forgetful, and won't remember the general idea by the time you find Fear and watch it, so you'll still get a surprise. (The poster and trailer basically ruin this too though, so I don't feel bad about spoiling as much as I have.) Basically what I'm saying is this: The plot takes a lot of time to get going, and it's because of the extended time we get with these characters that it ends up being moderately successful in thrilling the audience.
Fear is a film that ends up wearing out its welcome way before it ends, but still leaves you wanting some questions answered. It's too long, but you want more. Maybe scenes that should have been included were edited out, and ones that are redundant were included, I'm not sure. What I do know is that this isn't a thriller that completely satisfies, even if it has a strong cast and a good enough premise.