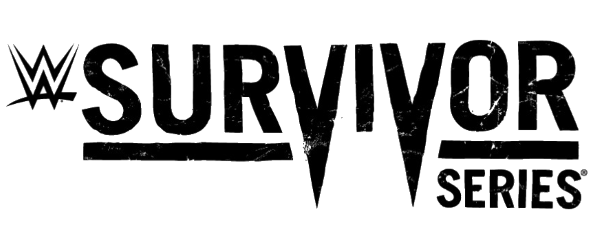 Apparently the Survivor Series kickoff show started on the hour, not on the half hour, so I missed 30 minutes of it. It's okay. Bad News Barrett showed up and said that he'll usher in a new era if The Authority loses tonight. Oh, and there was a match.
Fandango (with Rosa Mendes) vs. Justin Gabriel
Fandango won. I didn't see it. I predicted it right, though. You wouldn't have someone else return with Fandango and then bury Fandango with the other returnee.
I also got to see Cesaro cut a promo about being neutral. He hypes up the main event but reminds us that he's not on either side. But he's still supporting Team Authority. He's interrupted by Zeb Colter and Jack Swagger — even though Swagger's supposed to be too hurt to compete tonight, hence why he's not in the main event tonight.
Cesaro vs. Jack Swagger (with Zeb Colter)
Swagger and Cesaro doesn't make any sense as a match right now, but that doesn't mean it's not appreciated. It's a slower match than you'd hope for given the competitors, but then it is on the pre-show, and therefore the expectations aren't high. The match isn't bad. It is short, is competitive, and has a nice finale. Swagger wins with an ankle lock.
Match Rating: **1/2
That concludes our pre-show. Well, a shot of Vince McMahon showing up at the arena concludes the pre-show. He's in the building as an on-screen character tonight.
In fact, Mr. McMahon kicks off Survivor Series. Why? Because the card only has five matches and we need to fill time. Vince promises a show we will never forget. And with that, he brings out his daughter, Stephanie, as well as Triple H. They are The Authority, and if Team Authority loses in the main event tonight, The Authority will no longer be in power.
Stephanie gets a mic first and says she feels such love from her father. The Authority won't let him down tonight. Soon enough, John Cena comes down to the ring. If his team loses, all the non-Cena members are fired. Cena really doesn't have anything to lose tonight, Triple H reminds him. It's true. If Team Cena loses, John Cena will still be fine. Stephanie tells us that she's still calling the shots from the head office even if The Authority loses. She asks for her father's confirmation of that, and he tells her that's not really true. The Authority won't get to have any influence over WWE Superstars. There's only one person who could bring The Authority back into power, and that person is … John Cena.
Fatal Four-Way WWE Tag Team Championship Match: The Usos (Jimmy and Jey Uso) vs. The Miz and Damien Sandow vs. Los Matadores (Diego and Fernando, with El Torito) vs. Stardust and Goldust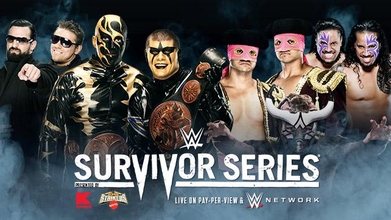 So, only two men are in the ring at one time. If you want to get in, you have to hope that an opponent gets close enough so you can tag yourself in, or that they'll tag themselves out. This stops it from being such a mess of men. It's still a bit of a mess, but that's understandable. The story of the match involves nobody tagging in Damien Sandow, because that's whom the fans actually want to see.
The match is routine and not particularly interesting. It's only fun because of Damien Sandow and he fans' desire to have him tagged in. Otherwise, the crowd was understandably dead.
The finish comes after a four-person tower of doom leads to an Uso splash which is then capitalized on by Damien Sandow, who tagged himself in. Miz and Sandow are the new champions.
Match Rating: **1/2
Adam Rose and The Bunny are shown backstage next in what's an advertisement for WWE action figures. Rose tells us this is how they're going to settle their differences. The Bunny wins. They're interrupted by Titus O'Neil and Heath Slater, who are apparently still a tag team. Rose and The Bunny are going to face Slater Gator tonight, because this is how low on the card we have to scrape in order to fill the card.
Survivor Series Elimination Match: Paige, Cameron, Summer Rae, and Layla vs. Natalya (with Tyson Kidd) Naomi, Emma, and Alicia Fox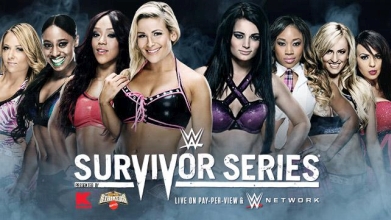 Natalya and Paige start off, which means that's the only real wrestling we're getting from this match. The faces eliminate all three non-Paige heel Divas. Paige then tries to escape, but she's stopped. Naomi eliminates her in a clean sweep. It was not good.
Match Rating: *1/2
We recap the pre-show and then go to its analysts, because WWE needs to kill time, given that there are only four matches left to fill out two hours. They hype up the main event and then recap the Dean Ambrose/Bray Wyatt feud.
Dean Ambrose vs. Bray Wyatt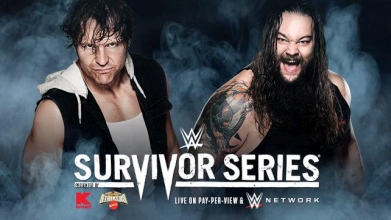 This is a brawl. You don't get a technical match from these two, so don't expect one. It's filled with punches, kicks, and bodies colliding violently. It's an even match, one filled with lots of the aforementioned as well as a couple of big spots.
Bray Wyatt gets a microphone midway into the match, to fill up time. Wyatt says they're both special, and they could rule the world together. Wyatt then gets a couple of chairs into the ring, one of which the referee removes, the other of which Ambrose gets. Wyatt wants Ambrose to hit him. So Ambrose does. Wyatt wins by DQ.
Match Rating: ***
Ambrose gets a table after the match. Wyatt is put through it with an elbow drop. Then Ambrose grabs another table, which he lays on Wyatt and then hits the table with a chair. Ambrose then throws a whole bunch of additional chairs into the ring. And then he gets a ladder. It's almost like the next PPV is built around tables, ladders, and chairs. Ambrose climbs the ladder, but doesn't jump off it. It's a very big ladder, so that's a good thing.
The Authority meets with the team backstage, promising all the rewards if Team Authority wins tonight. I still can't think of a kayfabe reason as to why Triple H isn't in this match himself.
Adam Rose and The Bunny vs. Slater Gator (Heath Slater and Titus O'Neil)
I'd like to remind you that this is a PPV, not an episode of Superstars. The match is mediocre and not worthy of being on a PPV. Not at all. The Bunny wins with a dropkick. Adam Rose looks mortified, as do I.
Match Rating: *1/2
We're then "treated" to a Roman Reigns interview. Team Cena is then shown backstage. It's pep-talk time. Everyone seems to care except Erick Rowan, who is busy playing with a Rubik's Cube. He eventually notices and tells us that Team Cena needs to win.
WWE Divas Championship Match: Nikki Bella (with Brie Bella) vs. AJ Lee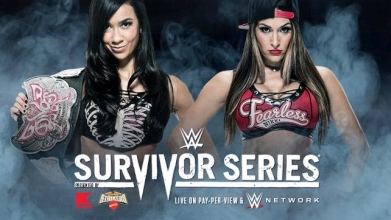 Uh, so, Brie kisses AJ and then Nikki hits the Rack Attack and that's the match. Nikki is the new Divas champion, and that's all the match we get.
Match Rating: *
Brie looks genuinely happy for her sister after the match. There's no post-match attack or anything; that's literally it.
Survivor Series Elimination Match: Team Authority (Kane, Mark Henry, Luke Harper, Rusev, and Seth Rollins, with Triple H, Stephanie McMahon, Lana, Joey Mercury, and Jamie Noble) vs. Team Cena (Dolph Ziggler, Erick Rowan, Ryback, Big Show, and John Cena)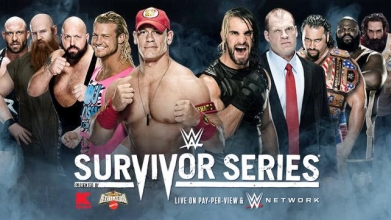 Big Show knocks out Mark Henry right off the bat, faster than Nikki beat AJ. Why did nobody break up the pinfall? Who knows? Then the real match starts. It gets good. Then it degenerates into chaos, which allows a cheap Curb Stomp from Rollins onto Ryback, followed by a big kick and a pinfall by Rusev. Ryback was out first for Team Cena, despite being the most heavily sought-after free agent leading into the PPV. How does that make any sense?
Rusev goes for a running splash on the announcer's table, but misses and gets counted out. That's how he gets eliminated, because you can't have him pinned or submitted.
The match then gets even more chaotic. Rollins keeps coming in when he's not supposed to, everyone attacks anyone available, and Erick Rowan winds up eliminated. After Rowan is eliminated, Big Show gets into the ring with John Cena, and Big Show punches Cena. Cena gets covered by Rollins and is eliminated. Big Show shakes Triple H's hand, and then leaves, letting himself be counted out. Dolph Ziggler is the only one remaining.
Ziggler winds up pinning Kane after being taunted and toyed with by all of Team Authority. Ziggler also manages to roll up Harper for a three-count. It winds up coming down to Ziggler and Rollins. Rollins and Ziggler have some incredible near-falls. The match went from good to great as soon as Ziggler was the last one on Team Cena remaining.
Ziggler had a victory, but Triple H pulled the referee out at the last second. Noble and Mercury then beat up Ziggler while there's nobody to stop them. Ziggler manages to beat them up on his own, though. Rollins uses the chance to ambush Ziggler, but Ziggler counters into another Zig Zag. A referee runs out and Triple H attacks him, too. Then Triple H beats up Ziggler. What's stopping Ryback/Rowan from helping Ziggler at this point? Nothing. Triple H eventually gets a third referee to come out, after putting Rollins on top of Ziggler.
But then Sting's music hits. Sting is actually here. He walks down to the ring, and that apparently makes the referee stop counting a pinfall. Sting attacks the referee, who for some reason left the ring. Sting and Triple H have a staredown for a good long while. Triple H eventually tries to attack Sting, but Sting dodges and then hits a reverse DDT, which some people call the Scorpion Death Drop. Sting then puts Ziggler onto Seth Rollins, leaves, and a referee gets up and counts it, leaving Team Cena victorious, thanks to Sting.
Match Rating: ****
Ziggler stumbles up the stage and is greeted by John Cena, who is no-selling his injuries like a champ does. The crowd begins to chant "goodbye" to The Authority, who are left in and around the ring, speechless and upset. Stephanie tells the fans that this is not over, presumably because we're setting the stage for Triple H/Sting at WrestleMania.
The Good: Team Cena/Team Authority. Sting. The kiss. Ambrose/Wyatt.
The Bad: Rose/Bunny vs. Slater Gator. Divas Elimination Match. Nikki/AJ.
Match of the Night: Team Cena vs. Team Authority.
Prediction Score: 4/6.